How Retailability increased efficiencies in the face of adversity
Retailability, a long-standing customer of global retail software specialist, Retail Directions, is a South African-based fashion retailer that operates over 600 stores across Southern Africa, including South Africa, Namibia, Botswana, Lesotho, and eSwatini. Its portfolio of fashion brands includes Legit, Beaver Canoe, Style, as well as Edgars, which it acquired in 2022.
Retailability prides itself in bringing authentic and affordable fashion to its customers, with a brand portfolio that caters for high- and mid-end consumers, as well as a style chain that targets the entry-level, fashion aspirant customer.
The acquisition of 130 Edgars stores in 2020 – a significant and well-established brand in South Africa – has seen Retailability's product portfolio expand in size, diversity, and complexity, yet the group's supply chain philosophy remains largely unchanged.

Steve Pearson, Head of Supply Chain and Logistics at Retailability, explains that when he joined the company in 2016, a lot of its philosophy around the supply chain was shaped by the limited physical space that was available. "We grew up with that sort of scarce mentality around space, and we've continued to run a supply chain that focuses quite heavily on flow through."
Achieving significant Distribution Centre efficiency gains
As a result of this philosophy, Retailability is constantly looking to see how its distribution centre can improve process efficiencies through automation – routing cartons to the correct courier lane for dispatch is but one example.
---
100% increase in conveyor speed efficiency
30% increase in despatch rates
Drastic reduction in shortages
---
After engaging Retail Directions, Retailability could go live with the automation of this process after several auto-divert units were installed into the converter to improve the speed and accuracy of the process.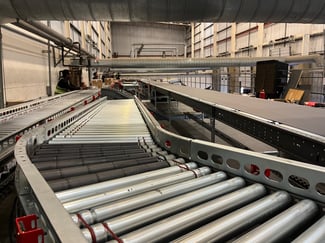 Previously, one person per lane would manually direct cartons to the correct courier truck. As the carton passed, the worker had to physically read the label to determine which chute each carton should be diverted to. Once validated, they would then push the carton down the chute, which was a slower process and occasionally resulted in inaccuracies.
By changing the 2D barcode information on the shipping label to include the routing information, Retail Directions has enabled Retailability to automate this once manual and time-consuming process.
These units (which use Beckhoff automation technology) now automatically read the bar code information and move the carton left, or right. Since being fully commissioned, the conveyor is now running between 95 and 105 meters per minute (m/minute) compared to 45 to 50 m/minute before – an increase in speed efficiency of over 100%.
Time from the scan to the first divert unit occurs in about 400 m/second, so manual checking was a pressurised task for Retailability's four staff working on the conveyor. Pearson notes that the previous manual process resulted in some misdirected cartons, often leading to a week-long process to investigate. The new automated process not only results in a higher throughput of cartons, allowing the number of chutes to double from four to eight, but also increases the accuracy and consistency of carton distribution.
---
"Retail Directions has already made a real difference to our warehouse environment."
---
"There is very seldom a change to a system that has a physical impact in the real world, yet here the positive impact is so clear to see. Having only gone live recently, productivity gains are still being measured, but early results are very encouraging. Since our diverters have been implemented, Retailability has increased its despatch rates by 30%. Even though it is such a small change, Retail Directions has already made a real difference to our warehouse environment," said Pearson.

The overarching business benefits of Retailability's new auto-diverter capabilities are numerous. Increased accuracy means faster delivery of inventory out to its stores, resulting in the right stock, in the right place, at the right time – which ultimately translates into more opportunity for sales and satisfied customers.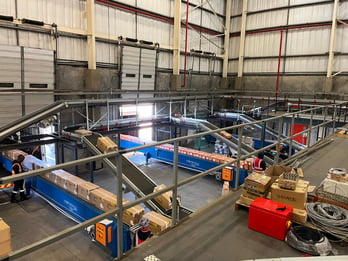 Automation is not a silver bullet
While a key goal for Retailability was to reduce costs and drive efficiencies throughout the warehouse and supply chain, the group understood the importance of using data to re-examine their processes to see if automation would really deliver what they expect, or whether there is a simpler, more cost-effective solution.
While selected automation may help, it needs to be based on data-driven decision-making aligned to a specific efficiency goal. To this end, Retail Directions introduced an automatic scan and receive system for Retailability that has improved the efficiency of goods receiving, enabling the retailer to simply check the weight of each box with anomalies surfaced for checking.
"By automating our scan and receive system, Retailability has been able to identify more errors and we have seen a drastic reduction in shortages with this process in place," stated Pearson.
This addressed a major challenge that arose when Retailability initially acquired Edgars. With a supply chain that historically focused less on flow through, a lot of stock was delivered in cartons that were going to be sent straight for dispatch. Many of the suppliers, however, delivered boxes that were half full, even though Retailability was paying per cubic metre.
Pearson comments that this enabled strategic decisions based on the specific challenges within the business – which will differ for every retailer and warehouse – rather than taking a blanket approach to a problem that needs deeper understanding first. Such analysis helps highlight where in the warehouse and supply chain stream change is needed.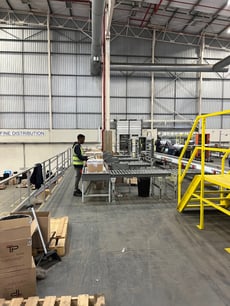 "It's all about metrics. By using your warehouse management data to ask the right questions of your business it's easier to decide if and when automation is needed or whether warehouse efficiencies and reductions in the cost of getting goods to a store can be achieved with simpler changes first," said Pearson.
Companies also need to be aware of the challenges that are introduced as the business grows. A common warehouse challenge can be the costs associated with multiple and duplicate touches of goods.
This is a scenario that also played out for Retailability when it acquired the Edgars brand, where increased and unnecessary touch posed the risk of inefficiencies and potential errors. Retailability took the time understand where they could make specific changes to have the biggest impact on reducing touches.
Pearson says that this necessitates having the relevant data at hand to understand what is happening within the supply chain and to identify the cost per carton to inform where changes can be made.
"In a supply chain, all automation and development are expensive. So, you need to get the big things right first and build your strategy around that. We've got the cornerstones of automation in place but are trying to make sure that we are using them efficiently, to tick the box completely and then move on to the next thing. You start to go for the next shiny bit of tech and you don't get full value out of the first one," concluded Pearson.
ENDS
Read Steve's blog here, and listen to Steve's podcast here.
About Retailability https://www.retailability.co.za/

Founded in 1984, Retailability is a South African-based group of retail brands including Edgars, Legit, Beaver Canoe and Style. With over 600 stores across Southern Africa including South Africa, Namibia, Botswana, Lesotho, and Swaziland – Retailability prides itself in bringing authentic and affordable fashion to our customers.
Find out more about managing efficient and connected warehouse operations at the lowest cost with our Advanced Warehouse & Logistics Management products and services. Download our product overview or request a demo.
What our clients are saying
"We have the ability to sell stock today, pick replenishment stock and get it back in store in a really fast time frame."

Glenn Keast, Senior Executive

"Retail Directions provided NOVO with a single platform to assist in developing world-class capabilities across the operation – from e-commerce to warehousing and everything in-between."
Ian Unwin, Chairman
"Finally, a solution that we could stay with for the long-term. An excellent system with outstanding support that has provided Cotton On with a reliable and agile IT base which has enabled the rapid growth of the business. If you are looking for a new retail system – look no further."
Ash Hardwick, Director

"With so many new stores opening, it was important for us to choose a foolproof, low-maintenance retail management system that would grow with us."
Paul Lacy, CEO
"We have chosen the right company to help realise our growth plans. There aren't many system providers in the market that could say they have been on a journey with a business from one brand, one country and 50 stores to seven brands, 18 countries and 1,500 stores – all on a single system. And, we're not done yet."
Peter Johnson, CEO

"We have deployed a number of systems over the years but we always had issues with integration. The other problem was when vendors made big promises but never delivered. After trying a few different vendors we thought, 'There's got to be a better way."
Robert Knyn, Business Systems Manager

"Retail Directions has already made a real difference to our warehouse environment."
Steve Pearson, Head of Supply Chain and Logistics